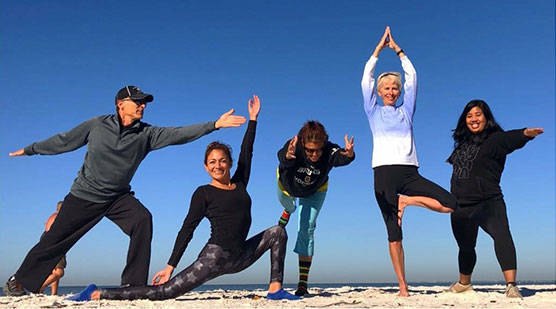 About Fort Myers Beach Yoga

We offer private yoga sessions and public group sessions around the island of Fort Myers Beach. Whether you're just getting your yoga feet wet or you've mastered the crane pose, our sessions are about having fun and relaxing the mind & body with everything yoga has to offer.
About Cristina

Hey, I'm Cristina, and I am very thankful to have been introduced to yoga at the early age of 8 and it has been integrated into her life ever since. I am a field biologist by trade, but left my government work to have my own eco-tour company, Good Time Charters, on Fort Myers Beach, and be a volunteer biologist in Estero Bay. In 2013, I completed my 200 hr yoga teacher training in vinyasa flow and standup Paddleboard Yoga Instructor certification. I also completed a 100 hr certification training from the Yin Yoga Institute, and 90 hours of training in Vedic Thai Bodyworks. My practice combines visualization, breath, mindful meditation, and energy to interpret the non-physical from the physical and achieve health and true happiness from within. Whether it is your 1st down dog or your 1000th, I look forward to serving you in your practice and guiding you to find your true self.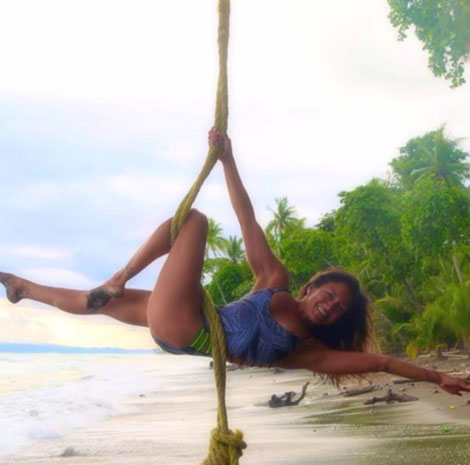 Group Sessions
Group sessions description
Beach Yoga
Due to Hurricane Ian dates are random. March 2023 dates: 3/21,3/25, 3/28. April 2023 dates: 4/1, 4/4, 4/18, 4/22, 4/25, 4/29. Call or text 239-250-0288 to sign up. Class is at 9:30 AM at beach access #22 corner of Connecticut St and Estero Blvd,
3598 Estero Blvd, Fort Myers Beach. A large towel or sheet works fine, and water.
$15 per 1 hr class
Private One on One Session
Private one on one sessions are a great way to deepen your practice and have a program tailored to your specific needs. Whether it is specific postures, meditation, breath work, or some other aspect of yoga you want to focus on, all levels can benefit from private yoga sessions. Enjoy your own practice in the comfort and privacy of your own home in Fort Myers Beach or we can have a private session on the beach.
$80 per/hr for up to one student
Private Group Session
Having a destination wedding, girls trip, family reunion, or some other special event and want a group session at your Fort Myers Beach vacation home, clubhouse, or on the beach? This is a great idea to help everyone in your group of any age do something fun together. Sunrise or sunset, we can work with your schedule!
$100 per/hr for up to 3 students, $150 per/hr for up to 10 students then $10 for each additional student.